Is Mental Health Reform on the Horizon? A conversation with Phyllis Vine
"…(H)istorically, presidents have struggled to build political will to pass meaningful legislation.  And yet, this time the political will — despite all the volatility — seems more intent on meeting the challenge…" (Washington Post Opinion, August 30, 2022)
In her work, the historian, journalist and author Phyllis Vine focuses on issues surrounding mental and behavioral health in the public sphere.  Her latest book, Fighting for Recovery, tells the story of grassroots efforts that challenged both medical authority and popular opinion to push for humane recovery-oriented treatment for those with mental or behavioral health challenges.  
On the occasion of the book's publication, Healing Magazine interviewed Vine regarding her views on the history of mental health reform – and her reasons for optimism now.
——————————-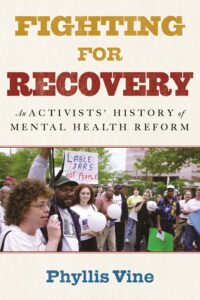 Your new book is titled, "Fighting for Recovery: An Activist's History of Mental Health Reform."  Why do you use the term "Activist's History?"
Because it's the story of people in the grassroots challenging a treatment system based on hospitalization that wasn't working. A handful of former patients, notably Judi Chamberlin and Howie "the Harp" Geld, organized the Mental Patient's Liberation Movement in the 1970s to protest how psychiatric diagnoses became a sentence to a forlorn life of custodial care. From New York City, Boston, and San Francisco, their numbers grew. Nationwide, ex-patients protested coercion and excessive medication of state hospitals that blocked opportunities for people to have lives beyond their symptoms. They insisted that services shouldn't be disabling, and designed alternatives promoting wellness and rehabilitation. Their influence driving a recovery movement is now understood and the voices of peers, people with a lived experience of mental illness, has gained traction. They have built advocacy programs with tools to further wellness, and peers are staffing services. The reform process, however, remains incomplete because of the gaps between the actual and the ideal.
It was very interesting to read in your piece in the Washington Post that reform of the mental health system has been the subject of attention in Washington for at least sixty years or more, but that politics seemed to intervene just as significant advancements were being made.  What are some examples of that dynamic?
In 1963 President John F. Kennedy sought reforms to bypass state hospitals. Partly due to his own family – a sister who had had a lobotomy – and partly believing that the system was putting patients "at the mercy of custodial isolation," he wanted to build robust services in the community. Weeks before he was assassinated, he signed the Community Mental Health Act to fund 1,600 local programs. His successor, Lyndon Johnson, re-budgeted for his own priorities, including a war in Vietnam which shortchanged mental health services, so Kennedy's ambition was never realized.
A similar situation occurred when Ronald Reagan was elected. His predecessor, Jimmy Carter, also had signed a sweeping law, the Mental Health Systems Act, weeks before his stunning re-election defeat. As he had done in California, and believing that mental health needs were overrated, President Reagan slashed funding and ended Carter's reforms building a partnership between the states and the federal government.
These are examples of how politics has governed mental health reform differently from any other health matter. 
1999 appears to have been a pivotal year for mental health reform.  What happened that year and why was it so important?
I think of 1999 as a triple-crown year for recovery. First was the Supreme Court's ruling in Olmstead v. LC. Georgia's Atlanta Legal Aid Society brought a lawsuit in 1995 involving two women with mental illness and intellectual disabilities whom doctors said were capable of living outside of a hospital with appropriate community-based services.  It took four years to make its way to the Supreme Court, and the majority 6-to-3 decision affirmed the Americans for Disability Act. Writing for the majority, Justice Ruth Ginsburg decried the "unjustifiable isolation" of institutional life, and affirmed the aspiration of "community integration for everyone."
The second important event came in July, also in Georgia, when Medicaid announced it would consider the therapeutic benefits of peer services a reimbursable service. That represented a unique achievement for peer leaders — people like Larry Fricks, who understood the outcomes for consumer-involved services meeting a person's needs which other services had ignored. The impact has spread beyond Medicaid reimbursement for peer services, which most states have since adopted, to see peers actively working in many health and justice service areas.
The third, the crowning achievement, came in December at the end of the century, when Surgeon General David Satcher and Secretary of Health and Human Services Donna Shalala released Mental Health: A Report of the Surgeon General. This was the first Surgeon General's report on mental health since the first such report on smoking in 1964. It was based on a review of more than 3,000 peer reviewed research articles. Dr. Satcher acknowledged there was no single definition for recovery, and said recovery in mental health was "variously called a process, an outlook, a vision, a guiding principle." He credited activists for fueling a national debate, and said it was time to acknowledge recovery was real.
In addition to the barriers in timing for reform – Kennedy's assassination, Carter's defeat in 1980 – you also wrote "Obstacles had been built into the system" of mental healthcare.  What are some of those structural obstacles?
A major obstacle includes how first responders have in the past met, and still often do meet a crisis. Disentangling mental health from law enforcement and criminal justice is a major concern. Having 911 summon the police for a behavioral health emergency has led to death, arrests and hospitalization, and injuries to citizens and police.  In the past year, the FCC introduced a national crisis number, 988, for first responders trained in behavioral health, including peers with a lived experience of recovery. Data show that the majority of most people in crisis can be helped by these teams, and don't need to be taken to a hospital or have law enforcement be called as backup.
Inadequate public and private spending on mental health services remains an obstacle. Despite the 1996 Mental Health Parity Act, and the 2008 Mental Health Parity and Addiction Equity Act, insurance still undervalues community services. Medicaid and Medicare still cap outpatient services. Although hospitals have downsized beds, taxpayer money never followed patients into their local communities. Because funding disproportionately went to hospitals, services were anemic, and many people ended up on the streets, or in jail. Today people needing mental health services fill jails and prisons, and that remains an obstacle and an injustice.
An important obstacle has been psychiatry itself, with a service model that's been slow to reorganize around recovery's need for social relationships, hope, and successes. Too often psychiatry satisfies itself with a reimbursable assessment about the adequacy of a person's prescription drugs; the building blocks to recovery require a broader configuration. 
One area where there is a glimmer of reform is in the emergency programs called EmPath. A psychiatrist in California, Dr. Scott Zeller, wanted to avoid the delay and trauma of emergency rooms where patients could be boarded on gurneys and wait in hallways for days, even weeks, for an inpatient bed. Those environments were cold, hectic, unfriendly, and definitely not therapeutic. Zeller came up with EmPath, a model based on a calm quiet setting, more like a living room designed for comfort in a non-coercive environment, not for efficiency. EmPath includes medical clearance (often within an hour) to rule out life-threatening conditions, after which — and when appropriate – a psychiatrist prescribes medication. People in crisis get faster services, quicker stabilization and an earlier return to their homes and family without a hospitalization.
EmPath looks a lot like qualities of voluntary peer respite programs which have been around for nearly twenty years. Respite provides support for anywhere between 24 hours and 30 days in a homelike environment. While some date from the mid 2000s, others are now coming on line as state offices of mental health are realizing the benefits include cost savings and a better outcome for people needing short-term support. 
You appear to be somewhat optimistic that efforts to reform mental health treatment now may succeed.  What's different now, in your opinion?
In September, the federal agency setting policy about substance abuse and mental health, SAMHSA, announced Paolo del Vecchio will head the new Office of Recovery. Del Vecchio is a trained social worker with a thirty-year history building recovery programs, including when he worked at the Center for Mental Health Services. He comes to the position with personal experience in recovery, as do two of his senior advisors.
It's particularly encouraging that the Biden administration is committed to a comprehensive strategy to improve behavioral health. The president mentioned this in the State of the Union, and the American Rescue Plan specifies programs to further community-based services. Fiscal support to expand the workforce, expand access to services, reduce barriers and promote equity with sensitivity to cultural differences – these are among the items his administration is working on. Of course, some of these measures require bipartisan support, a reminder that unlike other aspects of health, behavioral health is also a political issue and one that we know can be a hot button.
What lessons should we take from the history of mental health reform efforts, to ensure we move forward towards a better understanding and more effective treatments for mental health conditions in the future?
In the past, there was pursuit of a cure based on scientific biological research. There was hope that the discovery of drugs could be a "magic bullet." That led to decades of false starts. Today reform talks about recovery which is a process as well as an outcome, wellness on several dimensions. 
The fact that recovery can be achieved has reset the goal for behavioral health. This requires breaking down the silos and recognizing that discrimination has occurred based on race and class differences. And that housing, education, employment, social engagement, and medical treatments intersect to promote wellness and social integration. They should be part of a coordinated team, focused on what an individual needs, not based on what an agency provides. 
Reform takes place at all levels – national, state, and local.  And it has been most effective when activism is broad, with professionals, service providers, policy wonks, families, and especially people with lived experience.  Meeting and working with peers — people who have recovered, have first-hand knowledge, field experience, and a mission — is inspiring and effective.  
How important is public support for these initiatives?
It's essential. There's a lot of baggage, misunderstanding and stigma to overcome. It's been easy to scapegoat mental illness and attach it to separate issues needing attention such as gun control, violence, or housing policies. But most of these are spurious associations that confound the public's understanding. 
COVID has revealed the impact of social isolation and dislocation on mental health, and more recent press attention has allowed for more open and honest conversations that should benefit public understanding of needs.
What do you hope people take away from reading your book?
Options exist and recovery is real. But we need to put the services in place to make sure that the ideal is realized. We owe it to the one family in four that's managing a behavioral health challenge. We owe it to everybody who can thrive and learn and build, to ourselves and to our loved ones. And we should insist that organizations – school boards, churches, mosques or synagogues, law enforcement, the judiciary, public health offices, unions, and especially community health services – adopt recovery practices and principles. And that we, as private citizens, hold them accountable.