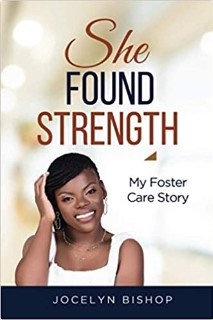 She Found Strength: My Foster Care Story by Jocelyn Bishop 
Reviewed by Caitlin DeLatte
This book is a beautiful meditation on growing up in foster care and the transformative power of love and family. Ms. Bishop became a client at KidsPeace in the early 2000s and is now a self-published author and professional in the Maryland school system. She offers a hopeful message for all who have been in foster care, particularly those who experienced mental health challenges.
In the first section of her memoir, Ms. Bishop describes her childhood growing up in Baltimore City and the events that led to her placement in foster care. She writes with compassion towards her biological family and frankness about the challenges she faced in her home environment. In middle school, a visit from a social worker began the process of removal from her childhood home. Ms. Bishop and her eight siblings were separated. She and one other sibling were placed in a therapeutic foster home with the Davis family. The love and tenderness that she experienced in the home was life-altering for her, and she writes that it "felt like paradise" to be in foster care with the Davises.
A great deal of the book focuses on her relationship with them and how they positively impacted her sense of self-worth and belonging. It is clear that the bond between Ms. Bishop and her foster parents was extraordinary. The other major thread throughout is her spiritual journey and the way her faith empowers her with purpose and resiliency.
Ms. Bishop invites readers into a rich and loving world when she tells stories about her time with the Davis family. They were her advocates and teachers, helping her to learn life skills and set goals for herself. With the Davises as a model, Ms. Bishop also learned what a healthy family dynamic could be. She writes passionately about her determination to break the cycle of estranged relationships that had affected her biological family. 
Hearing "I love you," from the Davises and being introduced to others as their daughter helped build Ms. Bishop's confidence and remind her that she was appreciated and deserved respect. Even when she aged out of foster care at age 21, Ms. Bishop stayed with them until she was ready to move to independent living on her own. After transitioning out of care, Ms. Davis earned an Associate's Degree in Healthcare Administration and embarked on a successful career. 
This book would particularly benefit current and prospective foster parents, as well as anyone who is interested in the field of child welfare. Due to descriptions of substance use, trauma, and suicidal ideation, I recommend this book for adults and older teens under the supervision of adults.
Ms. Bishop's book may particularly serve as a source of hope for young adults previously in foster care who may see their stories reflected in Ms. Bishop's. On the first page of the introduction, she speaks to them directly and reminds them that being a former foster youth is not a monolithic identity. As Ms. Bishop says, "Never think that you are in this by yourself because you're not. Stop and take a look at yourself and know that you are created for greatness."
Caitlin DeLatte is the Manager of Community Partnerships at KidsPeace Maryland Foster Care and Community Programs.
"She Found Strength: My Foster Care Story" is available through Amazon.